Pet Grooming: The Good, The Bad, & The Furry
---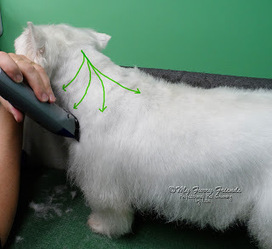 Below is a description and pictures of the way that I groom my customers Westies.
'Pet' grooming a Westie means that I will groom the Westie any way the owner wants.
Most of my Westie customers want a Westie pattern, but the length of the hair on the back, the skirt, and legs vary depending on what the owners want.
I also don't do the teased, shaggy Westie heads that you see on the dog bone box and in the Westie breed books.Detective Conan: Crimson Love Letter streaming
I don't know about other groomers, but most of the Westies that we have come in our shop don't have the type of hair on their heads needed to give them the 'Breed Standard' Westie head.
When I do get a Westie in that has the right type of hair on their head, the owner does not want the 'Breed Standard' Westie head.
…
See on petgroomingthegoodthebadthefurry.blogspot.fr
Get your clipper blades sharpened by a professional clipper blade sharpener.